Sheacon 2023 is starting TODAY! Early access is available right now, in fact! (Reminder! To attend Sheacon, you'll need to join the KM Shea Discord server! Once inside our community server, there is a special channel called "Sheacon-Announcements." That channel contains a link to the Sheacon server–the place where the actual conference is held. If you have any problems navigating the discord server, feel free to ask questions! Vin, the Mod Squad, and the Sheacon Planners will be watching, so they can swoop in and save you!)
Once you've joined Sheacon sever, you'll have access to the full schedule of events for the weekend–you can find it in the "schedule" channel! It's also advised that you check out the server rules and info channel, and since the Opening Ceremony won't take place until 6 PM central time, you've got time to explore all the activities–like puzzles–and check out the goodie bag! What is the goodie bag? I'm so glad you asked!
Every year I have a goodie bag of treats–for both Con attendees and Champions who couldn't make it! This year, we have so much to share–important, the other attending authors/panelists have goodies to share, too, so if you're attending Sheacon, check out the "Goodie Bag" channel on the server!
First of all the third boxset from the Timeless Fairy Tales series is free today (7/28) through Monday (7/31). This book was voted on by the newsletter Champions in my July newsletter, so thank you to everyone who voted – this boxset won by a landslide!
This boxset includes books 7-9 (Swan Lake, Sleeping Beauty, and Frog Prince) in the Timeless Fairy Tales series BUT if you haven't read the earlier books you can still enjoy these stories because each book in this series is a stand-alone retelling of a popular fairy tale. This also means you can send this deal to your friends to get them to try the series and they won't feel completely lost starting with #7 in the series.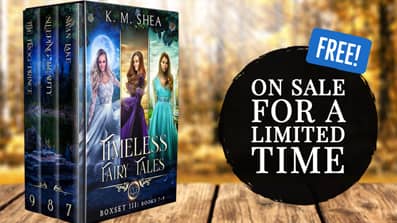 Get the free boxset: ​Amazon.com​  |  All Other Amazon Stores​
Want to know a little more about each book?
Swan Lake – A Robin Hood-esque adventure where the cunning leader of a troop of cursed smugglers/outlaws and a clever but often overlooked prince fall in love. (Quick warning that the villain in this series is the most popular(?!) I've ever written and triggers a lot of feels for some people.)
Sleeping Beauty – A childhood friend to – lovers/bodyguard romance between a feisty princess who was raised to believe she was a peasant and the loyal knight sworn to protect her. (This series doesn't have three good fairies like the Disney version but I think you will enjoy the pair of mages I included instead.)
Frog Prince – A fantasy boss/employee romance where the main male character has hidden depths and our plucky heroine, a maid who really loves cleaning, is brave enough to take on assassins with a broom. (If you read the first book in the series, Beauty and the Beast, you will love all the character crossovers that happen in this book!)
I also have a brand new coloring book page featuring everyone's favorite fairy tale donkey:
Here's a link to the PDF if you'd like to print this page off to color by hand, otherwise you can use the above JPEG file to color digitally! Get the PDF here
Magiford Champions might be feeling a little left out, but the best is yet to come! I have a brand new, never before seen Magiford short story for you! It's called "Fireworks for Wizards," and it focuses on Hazel Medeis and Killian Drake!
Click Here to read the PDF of this new short story!
Finally, we have a project for you audio lovers!
This summer the team converted my short story, "A Twisted Tale" into an audio format using AI narration, and we've uploaded it to Youtube for you to listen to–for free!
IMPORTANT NOTE! In the future I will only use AI narration for short stories–like A Twisted Tale–that will only be available for free on Youtube. Books, series, etc, will continue to have human narrators that will be available for purchase on Audible. (Basically, if we make any free audio stuff that I upload to Youtube, we'll use AI narration programs since I'll never be selling them/making a profit on them. Anything that gets packaged to sell will have human narrators!)
Listen to A Twisted Tale here!
And finally, if you're looking for more free books check out these additional fantasy romances which are all FREE for this weekend! Click here for the full list!
You'll recognize a several of the authors as guest authors from the current SheaCon (Charlotte Vane, Hanna Sandvig, and Celeste Baxendell all have free books for you) or previous years. Our Discord Manager, Vin, spent a lot of time vetting each author to make sure they meet the Sweet/Clean heat level but she didn't have time to read every book they've ever written. Vin did her best to make sure their content matches my books however, it's still wise to check reviews before you plunge into a new author's books, particularly if it's a series the author didn't promote as part of this special.
I am so excited for this weekend, and I can't wait to hang out with everyone! However, if you can't come, we will have audio records of the panels available to listen to in a few weeks, so don't stress!
That's everything. I'll see you at 6 pm (central time) for the opening ceremonies!